Frequently Asked Questions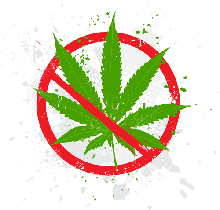 1. Will I really quit weed?
Yes. We first trialed this course with 18 regular marijuana smokers. To be considered in the test, each person had to smoke weed daily (at least 1 gram per day) and also, had to have smoked the drug for over 5 years -at the least. The results truly surpassed anyone's expectations – especially the people being tested!
Every single marijuana smoker not only quit weed but also had no marijuana metabolites found in their system when drug tested only 7 short days later. This test was conducted in March 2009. To this day – everyone involved in the testing is still drug-free.
[
Back To Top
]
2. How long will it take me to quit weed when I follow this guide?
If you start now, you can expect to have quit weed completely within the next 7 days, or earlier.
We have included many mind-changing techniques within Quit Marijuana The Complete Guide that will actually cause you to think differently about marijuana. It works! You don't have to quit weed today, but if you follow along with the guide you should expect to want (or feel like) smoking marijuana less within one week.
Once you have quit weed, you will be clean of toxins within a further 6 days (if you follow the methods outlined in Natural Marijuana Detox). This is a large improvement on the usual 10-90 days that heavy marijuana smokers experience when they quit marijuana without a system or Natural Marijuana Detox.
[
Back To Top
]
3. Are the 'rare ingredients' in Natural Marijuana Detox easy to find?
Yes. Natural Marijuana Detox is a course designed to be useful to you in your own home. You may have many of the ingredients in your home already, otherwise, everything can be found (very cheaply) at your local supermarket, chemist or health shop. All ingredients are available for public use.
[
Back To Top
]
4. What happens if I do not stop smoking marijuana?
The same thing that has always happened. Smoking marijuana for the rest of your life is the alternative to quitting weed.
[
Back To Top
]
5. Is this guide available outside the United States?
Yes. This Guide is available worldwide, exclusively from this website.
[
Back To Top
]
6. I don't have a credit card, how else can I pay for the guide?
Paying through clickbank will also give you the option of using paypal.
[
Back To Top
]
7. Is it possible to buy this guide as a hard copy?
At this stage both Quit Marijuana The Complete guide, Natural Marijuana Detox and Quit Marijuana: Video Program are available in digital form only. As soon as you order, you will have instant access. You can also save them to your computer for future reference. Many people like to print out the material so they have a physical copy to keep.
[
Back To Top
]
8. Is it safe to order from this website?
Yes. Your purchase is completely safe, secure and 100% private. Your credit card number is not saved or stored anywhere. The order is processed through a 100% secure SSL server. You will not see any details of Quit Weed on your billing statement. Your billing statement will show a charge from CLKBANK*COM.
To ensure a secure payment, our product is sold via ClickBank, the world's most trusted online retailer for digital programs.
[
Back To Top
]
9. How secure is clickbank?
Clickbank is the Internets largest online distribution center for electronic products. The following information about their security is from their website.
Advanced Security – Clickbank uses sophisticated international fraud control to screen all purchases. For maximum card security, all orders are sent directly to the banking network for immediate authorization. We do not store any credit card or bank account numbers.
[
Back To Top
]
10. While ordering, I can't see any bonus products?
This is true. You will only see a picture of "Quit Marijuana: The Complete Guide" while ordering (on our order page). Please know you will still be receiving all the products you see on our main page when you order The Complete Guide.
[
Back To Top
]
11. How do I buy this program for someone else?
If you would like to order this program for someone else, it is very easy to do. As soon as you order, you will be sent an email. This will contain your login username and unique password. You can login yourself and change these details to whatever you like, or simply send these details as is, to the person you wish to help.
PLEASE NOTE: If you use Paypal, your username will be your own paypal email address. To change this (before giving your friend or relative access) simply login yourself, and change the username and/or password to anything you like. Neither us, nor your friend or relative will ever see your payment details or password at any time.
When your friend or relative logs in to the members area, they too, will have access to all products and will also have the power to change any account details on their My Profile page, such as name, email, username, address, password etc.
[
Back To Top
]
If you have any further questions, feel free to Contact Us